Community Impact
Providing Relief Today so the Communities are Strong for Tomorrow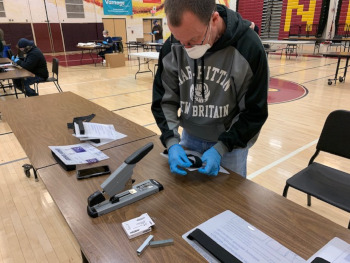 June 2021 - Published in: 2020 Annual Report - 2020 saw businesses close, schools shut down and people struggling to survive. It was a year filled with tragedy and lost hope. But it was also a year of strength, resilience and collaboration. A worldwide pandemic triggered local community response like never before.
Main Street Community Foundation was built for a year like this. The structure and expertise were in place as were deep relationships in all communities served – relationships with other funders, nonprofit organizations and the community. MSCF took on numerous leadership roles, ensuring that the Foundation was aware of any and all changing needs, and continually reached out to organizations to listen to their concerns.
Nonprofit organizations were facing dire circumstances. They saw a significant increase in the demand for their services and a simultaneous decrease in both program and fundraising revenue. Working side by side with the executive leadership of the Foundation, the MSCF Board of Directors recognized the challenges facing the nonprofits and took action. In March, MSCF joined hundreds of foundations throughout the country in partnership with the Council on Foundations to pledge its commitment to more flexible funding, allowing nonprofits to meet emerging needs prompted by the COVID-19 crisis.
That commitment began with the establishment of the COVID-19 Response Fund in March and continued with MSCF continuously adapting its grantmaking guidelines throughout the year and across all grant cycles. Much of the grantmaking, including distribution from the Bradley Henry Barnes & Leila Upson Barnes Memorial Trust and the Women & Girls' Fund, provided funding for what nonprofits needed the most: unrestricted operating support.
In 2020, $852,000 in grants were awarded from the COVID-19 Response Fund and other funds at MSCF to support response and recovery efforts. These were the most transformative grants MSCF has ever awarded. The listing of these grants can be found here.
With the funds at MSCF, the Foundation was able to rapidly deploy flexible resources to help in areas affected by the pandemic. MSCF worked in partnership with town governments and other funders to ensure all funds had maximum reach and effectiveness.
And it is not over. MSCF will continue COVID-19 response and recovery efforts until our nonprofit organizations can resume normal operations. MSCF wants to provide relief today so our community will be strong for tomorrow.
The COVID-19 Response Fund
The COVID-19 Response Fund has been critical to response and recovery efforts, and it was built entirely by the community, garnering donations from private foundations, donor-advised funds, individuals, businesses and families. MSCF has only been able to respond in the way it has due to the generosity of many donors.
The first phase of grantmaking from the COVID-19 Response Fund provided rapid response grants to 20 nonprofits to meet the basic needs of residents. Grants ensured that nonprofits were able to provide much needed food pantry items, educational materials for students learning from home and so much more. In the second phase, grants provided local nonprofits with unrestricted support to sustain their operations.
The COVID-19 Response Fund entered into a third phase in 2021, providing capacity building grant support, and will continue to provide flexible funding to nonprofits.
Anniversary
Assisting Nonprofits and the Community in Other Ways
Nonprofits serving this region came together – we learned together and we acted together to address the shared issues your neighbors were facing. It wasn't just through funding, but also various initiatives and task forces; everyone wanted to do more for the community. Main Street Community Foundation volunteers regularly teamed up with the United Way of West Central Connecticut to distribute food through the Farmers to Families Food Box Distribution Program. MSCF also sat on all local task forces to ensure collaborative solutions reached all residents.
Grant in Action
At the start of the pandemic a plea was made to the public: If you have new or unused personal protective equipment (PPE), donate it to health workers on the frontlines of the pandemic. Not only did individuals step up, so did companies and organizations.
Main Street Community Foundation was proud to be part of a community collaboration in April to create face shields for healthcare workers and first responders. A $5,000 grant to Hartford HealthCare from MSCF through the Bradley Henry Barnes & Leila Upson Barnes Memorial Trust ensured that healthcare workers in Southington received the PPE they needed to stay safe while helping others.
The face shields were produced by OKAY Industries in New Britain with assembly taking place in New Britain High School by community volunteers. OKAY Industries produced 22,000 face shields for local hospitals, first responders and health organizations, with 14,000 going to Hartford HealthCare.
Support for Anniversary Benefits COVID-19 Relief
Main Street Community Foundation planned on recognizing its 25th anniversary by hosting The Main Event: A Quarter Century Celebration to not only celebrate but to raise funds for its community leadership initiatives. Due to the enormous impact of COVID-19 on all communities, it was decided that the best way to commemorate the 25th anniversary was to cancel the event, mobilize resources and meet the most pressing needs of the communities. The local businesses, organizations and individuals who generously committed sponsorships to The Main Event agreed.
All sponsors redirected their support to MSCF's COVID-19 Response Fund. This includes the Quarter Century Sponsorship ($25,000) from Robert R. Rosenheim Foundation and the Leadership Sponsorships ($10,000) from Barnes Group Foundation and Merrill Lynch Wealth Management. Their donations provided additional resources to those organizations on the front lines and greatly aided in the recovery period to bolster local nonprofits. The Main Event sponsors can be found here.