Financial Overview

The Main Street Community Foundation understands and accepts its role in the community as a vehicle for citizens and organizations in Bristol, Burlington, Plainville, Plymouth, Southington and Wolcott to fulfill their charitable objectives.
At the same time, the Foundation is committed to maintaining a focus on the perpetuity of its funds and our responsibility for providing a stable source of funding to projects, programs, and organizations in the Foundation's service area. Administered prudently and thoughtfully, endowments will continue to provide support for as long as needed. All financial policies instituted by the Foundation are cornerstones of that prudent stewardship.
2022 Financial Facts
$51.3 million in total assets
$1.5 million in gifts received during the fiscal year 2022
279 funds established since 1995
$2.3 million distributed in annual grants and scholarships during fiscal year 2022
$25.8 million in cumulative grants distributed since 1995
---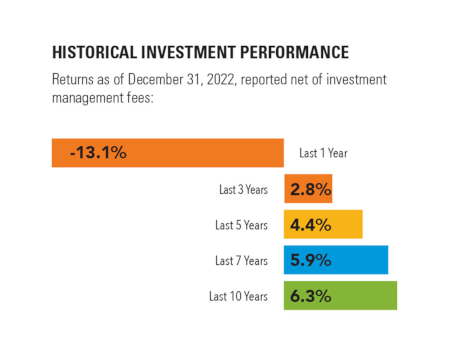 Investment Goals for the Endowment Pool
Achieve a total rate of return that will produce a consistent level of long-term growth
Grow the principal at a rate that will outpace inflation through investments that emphasize and are focused on asset quality
Outside investment professionals, selected and monitored by the Investment Committee, manage the endowment. For information about our current investment managers, contact Susan Sadecki, President & CEO, at susan@mainstreetfoundation.org or 860.583.6363.

 
---
Financial Reporting
As a public charity, the foundation makes financial reporting and investment practices available to the public. Contact us to receive a copy of any of the following:
Audited Financial Statements
IRS Form 990 Federal Tax Return
IRS determination letter confirming 501(c)(3) status