Celebrating 20 Years of Giving In Your Community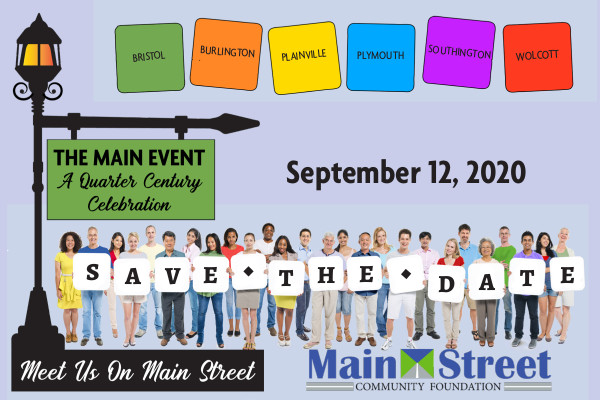 This year, the Main Street Community Foundation is celebrating its 25th anniversary. Over the past 25 years, we have truly created a legacy of significant importance in the communities of Bristol, Burlington, Plainville, Plymouth, Southington and Wolcott for all generations that will follow. The support of many individuals, families and businesses has had a tremendous impact on our growth. 
On September 12, 2020 we will reflect on our past and share our successes at The Main Event: A Quarter Century Celebration - Meet Us On Main Street at The Aqua Turf Club. Proceeds from the event will support our community leadership efforts, also known as "Money in Motion", as we work to strengthen and grow the towns that we serve.
What: The Foundation's 25th Anniversary Celebration
When: September 12, 2020 at 6 p.m.
Where: Aqua Turf Club, Plantsville
Partner with the Foundation - Sponsorship and Ad Opportunities
Sponsorship and ad opportunities are available for The Main Event; click here for the Sponsorship Package. For more information, or if you are interested in donating an item to the silent auction, contact Susan Sadecki at 860.583.6363 or susan@mainstreetfoundation.org.