Community Impact
COVID-19 Response and Recovery; Foundation Shifts Focus Amid Pandemic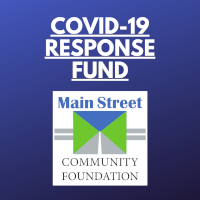 September 2020 - Local nonprofits are struggling due to the effects of the unprecedented COVID-19 pandemic - there has been a significant increase in the demand for their services and a simultaneous decrease in both program and fundraising revenue. Main Street Community Foundation has listened to the nonprofits in your communities and adapted its grantmaking guidelines to provide funding for what is needed the most: unrestricted operating support. Click here to see a full list of grants that have been awarded in operating support to help sustain nonprofits in Bristol, Burlington, Plainville, Plymouth, Southington and Wolcott.
"The Board of Directors took action and recognized the challenges facing our local nonprofits during this extraordinary time," stated Susan Sadecki, President & CEO of the Foundation. "Back in March, we joined hundreds of foundations throughout the country in partnership with the Council on Foundations to pledge our commitment to more flexible funding to help grantee partners meet emerging needs prompted by the COVID-19 crisis."
The COVID-19 Response Fund was established in March and was built by the community, garnering donations from private foundations, donor advised funds, individuals, businesses and families. "The Foundation has only been able to respond in the way it has due to the generosity of many donors," stated Sadecki.
The first phase of grantmaking in response to the pandemic provided rapid response grants to nonprofits to meet the basic needs of residents, while phase 2 grants are providing general operating support grants to local nonprofits. Recently, grants totaling $112,353 were awarded to 18 organizations from the COVID-19 Response Fund, the Bristol Brass General Grant Fund, the KAWFY Memorial Fund and several donor advised funds: the Clement Family Fund, the Hamzy Family Charitable Fund and the Pat & Bob Wollenberg Charitable Fund.
In addition, after careful assessment of the needs in Southington, the Foundation awarded $352,873 in general operating support grants from the Bradley Henry Barnes & Leila Upson Barnes Memorial Trust to nine organizations. The Trust was originally established in 1973 by the late Bradley Henry Barnes to support the health and well-being of Southington residents.
The Foundation will also award general operating support grants in the coming months from the Women & Girls' Fund to local organizations that provide gender-specific programming.
"These nonprofits are providing critical services to residents in need," said Sadecki. "We want to provide relief today so we can keep our community strong for tomorrow."
For all information on the Foundation's grantmaking response to COVID-19, and full lists of grants awarded, click here.
Main Street Community Foundation will continue COVID-19 response and recovery efforts into 2021 and beyond. The Foundation encourages individual donors, businesses and other funders to consider a contribution to the COVID-19 Response Fund if they are able, at mainstreetfoundation.org/covid19-fund.