Community Impact
Making Women and Girls Centered Data Accessible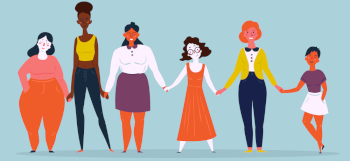 June 2021 - Published in: 2020 Annual Report - Main Street Community Foundation is a proud member of the Connecticut Collective for Women and Girls. The Women and Girls Data Platform is a collaboration between the Connecticut Collective for Women and Girls and the Connecticut Data Collective and it was jointly funded by several foundations, including Main Street Community Foundation with a grant from the Women & Girls' Fund.
The needs of women and girls are known, but reliable information on those needs is vital to addressing them. The Connecticut Women and Girls Data Platform was created to equip nonprofits, government and community members with the power that essential data provides to increase equity of women and girls in Connecticut. The platform is one of the first of its kind in the country and can be accessed at womenandgirls.ctdata.org.
The Women and Girls Data Platform is an interactive resource that provides regional, city and statewide public data and is aggregated for race and gender. Data is featured by demographics, health and safety, education, economic security, civic engagement, mental health, substance abuse, justice and housing.
Findings based on the data include:
In Connecticut, 2 in 3 females aged 25 plus have at least some college education.
Female full-time workers in Connecticut have experienced a larger wage gap compared to the United States. As of 2018, the wage gap remains substantial at 19 percent.
The median earnings of women working in STEM and management fields are highest among all industries. However, management occupations comprise 13 percent of all female employment in Connecticut and STEM field accounts for only 4 percent.
There are approximately 113,110 women own businesses in Connecticut, which employ 95,300 people and contribute $16.4 billion to Connecticut's gross domestic product.
Adult women were more likely to report poor mental health than adult men. Black respondents suffer from poor mental health at a higher rate than respondents of other races.
Female students are slightly more likely to have used electronic vape products at least once.
Women of color have had lower homeownership rates than white women.
47.8 percent of female-headed households in Connecticut age 65 and younger are below the ALICE threshold. 52.2 percent of female-headed households age 65 and older are below ALICE. The ALICE Threshold represents the minimum income level necessary based on the Household Survival Budget (the estimate of the total cost of household essentials).
COVID-19 and the Effects on Women
The Connecticut Collective for Women and Girls and the Connecticut Data Collaborative joined together again to publish Essential Equity: Women, COVID-19 and Rebuilding CT. This report explores the disproportionate impact of COVID-19 on women and girls (particularly, women and girls of color), across areas of health, economic security, child care, housing, mental health, safety and hunger. The report calls for gender and racial equity to be centered in relief and recovery. It also highlights that effective economic recovery will not be possible without strong participation from women.
The report can be accessed at aurorafoundation.org/essential-equity.