Southington Arts Council Legacy Fund
The Southington Arts Council retired its operations in 2018 and established this fund as a legacy to the community of Southington. During its 36 years of operation, the Southington Arts Council worked diligently to build community awareness for and participation in the cultural opportunities in Southington. The Southington Arts Council was founded in 1982 by Carole S. Milano in order to make the cultural arts accessible to the residents of Southington. Grants from this fund will support programs and organizations for the promotion and appreciation of artistic and cultural opportunities that will benefit the community of Southington including visual, performing, creative writing and holistic arts opportunities.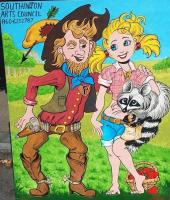 Plantsville Pete, Southington Sue, and Fritters the Raccoon.