Sergeant Alex Hamzy Memorial Fund
Sergeant Alex Hamzy was an eight-year veteran of the Bristol Police Department who was killed in the line of duty on October 12, 2022. At just 34 years old, Alex lived a life of accomplishments that was more like a person who was decades older. He always wanted to be a police officer and served his hometown of Bristol with dedication, conviction and integrity. He was a longtime advisor for the Bristol Police Explorer Cadet Program and passionate about teaching young adults the values needed to succeed in serving their community. He was a member of the Central Regional Emergency Response Team and joining that team was one of the many highlights of his career.
This donor advised fund was established by the family of Sergeant Alex Hamzy to honor his memory and selfless service to his community. Grants from this fund will be awarded to organizations at the recommendation of Alex's family.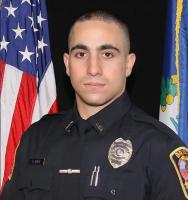 Sergeant Alex Hamzy