OUR NEWS
Scholarship Honors Memory of Longtime Bristol Hospital Nurse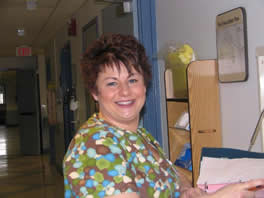 February 13, 2015 - Julie Roche, a lifelong Bristol resident, had a passion for nursing. It was evident in the way she cared and advocated for her patients and the way she mentored new nurses. So it was natural that when she passed away in December 2013, after a long and courageous battle against leukemia, her family established the Julie A. Roche Nursing Scholarship Fund at Main Street Community Foundation to honor her memory and her passion for nursing.
Julie spent her entire 26-year nursing career at Bristol Hospital. "She loved her job more than anything, taking care of people, comforting them during their times of need and she was really good at it," said Katelin Roche, Julie's daughter. Katelin stated that her mother's most recent and proud position at Bristol Hospital was as a critical care nurse in the intensive care unit (ICU).
The Julie A. Roche Nursing Scholarship Fund will award a $500 scholarship to a student that has the qualities that Julie exemplified. Students from Bristol, Burlington, Plainville, Plymouth, Southington and Wolcott who are currently enrolled full or part time in a two-year or four-year college with at least one year of classes toward a nursing degree completed may be eligible to apply.
"We are thrilled to be able to assist students who have the same passion and commitment to nursing as Julie," said Susan Roesch, Julie's mother.
The first Julie A. Roche Nursing Scholarship will be awarded in 2015 and applications are being accepted through March 27, 2015. The 2015 Scholarship Directory, which lists all scholarships and eligibility criteria, and the application are available here.
If you are interested in donating to the Fund, you may do by sending a check to the Foundation or by donating online.