Ray Machine Corp./Ray & Darlene Lassy Family Fund
Ray Lassy, a longtime resident of Plymouth, established this scholarship fund in 2017 to assist students who have the same passion he did. Working for over 50 years in a field he loved, Ray started a small tool and die business in the basement of his parents' house while working at a machining manufacturer. He eventually opened his own shop in Terryville before expanding the business to Ray Machine Corporation, also located in Terryville. Ray held several patents for parts he designed and tooled and was passionate about the work he did.
This scholarship is available to residents of Plymouth or Terryville who are graduating high school seniors of Terryville High School and are pursuing post-secondary education and/or training in the field of field of precision machining, mechanical engineering, or manufacturing and design.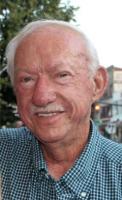 Ray Lassy