OUR NEWS
Raise a Pint to Raise Funds for Local Men and Boys October 28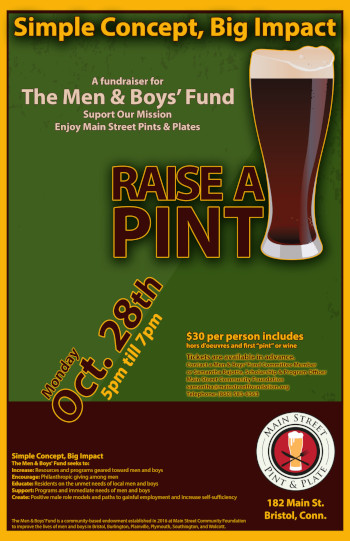 Raise the quality of life for local men and boys by raising a pint with the Men & Boys' Fund of Main Street Community Foundation. The Men & Boys' Fund is holding the second annual "Raise a Pint" at Main Street Pint & Plate in Bristol on Monday, October 28 from 5-7 p.m. Tickets are $30, which includes a sampling of the menu and a glass of beer or wine, and can be purchased by sending a check to Main Street Community Foundation, P.O. Box 2702, Bristol, CT 06010.
The Men & Boys' Fund works to make it possible for men and boys to improve the quality of their lives, increase their self-sufficiency, and make a positive difference in their communities. The Fund supports programs that benefit the residents of Bristol, Burlington, Plainville, Plymouth, Southington, and Wolcott. Since its establishment in 2016, the Men & Boys' Fund has provided six program grants totaling $9,200, built an endowment of more than $50,000, and awarded 17 immediate response grants. "Funding for these effective grants is dependent on the generosity of individuals, organizations and fundraisers like this one on October 28th," said Rodger Stotz, chair of the Fund's Advisory Board.
In 2018, the Men & Boys' Fund awarded $6,000 in grants to local nonprofits for a work and life skills program for high school students; a program for single fathers; and camperships for boys. In the coming months, another $7,500 in program grants will be announced.
is an identified need in all six towns for positive male role models, workforce development opportunities, parenting skills, access to mental healthcare, and more. Everyone who contributes to this fundraiser will not just raise a pint, they will raise the quality of life for local boys and men," Rodger stated.