Community Impact
The Power of Donor Advised Funds
June 2023 - Published in: 2022 Annual Report - There are several kinds of funds that can be established at Main Street Community Foundation by community members, all of which have a specific impact on the needs in our communities. Donor advised funds allow donors to actively participate in grantmaking, recommending grants to charitable projects or organizations they want to support, with approval by the MSCF Board of Directors. These funds can have incredible power, and lead solutions in the community, sometimes providing larger investments in programs that the Foundation otherwise would not be able to. More so, donor advised funds often allow for a deeper connection to be built between the donors and the causes they are supporting. The following are two examples of grants made from donor advised funds that led solutions in the community:
 
---
In 2022, the Myra Boccardi Desroches Advancing Young Minds Fund was established. This fund was established by Myra's family to honor her passion for children and literacy. The purpose of this fund is to award grants to organizations providing literacy services and resources needed to make literature more accessible to young minds. The Fund's advisors, Myra's husband Michael Desroches and Myra's sister Becky Boccardi Zappone, play an active role in deciding where the grants are awarded.
In its first year of being established, a $2,000 grant was awarded from this Fund to the Early Childhood Collaborative of Southington (ECCS) for their Community Services' holiday gift program. The grant was recommended by Myra's family after MSCF staff conducted an assessment of local pre-K through 3rd grade literacy needs. Coordinated during the winter season, the holiday gift program sees that all participating children, ages 12 and under, received a package of books specific to their reading level. In December of 2022, the Fund's advisors together with MSCF staff representatives attended the set up for the holiday gift program, where they assisted the ECCS staff and volunteers in creating the packages of books the children would receive. This was an opportunity for the Fund Advisors and ECCS staff to connect with each other; for ECCS to see the legacy they are continuing with the grant from this Fund, as well as for the Fund Advisors to see the impact of the grant.
---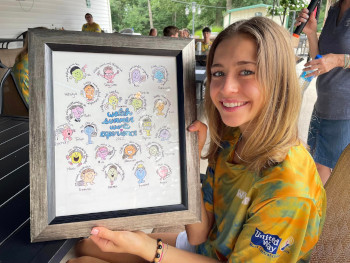 The Walsh Summer Work Experience Program (WSWEP) began over a decade ago in order to serve students who did not qualify for the state-funded programming, and it is currently operated by the United Way of West Central Connecticut. Since 2017, Main Street Community Foundation has awarded grants from several funds to support the program and continue to provide this incredible opportunity to local students. 2022 was no exception, with over $90,000 awarded from two funds - $85,525 from the Tim & Mary Walsh Charitable Fund, a donor advised fund, and $5,000 from the Money in Motion Fund, an unrestricted fund. Collaboration between donor advised funds and other funds at MSCF can be critical, and can enable the Foundation to have a larger investment in programs, such as WSWEP, and have a much greater impact.
Over the years, the majority of funding for WSWEP has been provided by the donor advised fund in partnership with other grants from MSCF as well as other funders like the City of Bristol, the McPhee Foundation and the Farmington Bank Community Foundation.
In the WSWEP, students spend the first week in a classroom with the aim of learning career readiness skills as well as social and emotional skills. The subsequent six weeks provide each student with real-world, paid work experience at local work sites around Bristol. The work sites afford a range of skills with the sites ranging from Bristol Hospital, Bristol Housing Authority, Shop Rite, the New England Carousel Museum and many others.
Throughout the years of this program, students have demonstrated their ability to succeed in these jobs, learn new skills, and exceed expectations of their employers. Often, students are hired by the worksites they attended after the program has ended. Programs like this are critical to developing confidence in the students and opening their eyes to different career opportunities, especially when other programs like this become unavailable.
---
It is community needs like childhood literacy and youth workforce development that community members come to care about, and they are able to invest in these needs in a meaningful way through Main Street Community Foundation.