Paul and Joanne D'Aprile Family Fund
Paul and Joanne D'Aprile are life-long residents of Bristol, Connecticut and are known for their giving hearts. Giving to local organizations is very important and includes hometown favorites St. Matthew Church where they have been life-long members; St. Matthew School, attended by all of their children; and the American Clock and Watch Museum, to which Paul has donated innumerable volunteer hours. They also support education through the Michael Paul D'Aprile Scholarship Fund at St. Matthew School. In addition to local nonprofits, they give to national charities such as Save the Children. Grants from this advised fund will continue that support.
Paul and Joanne are devoted to their family and community. To further their support beyond their lifetime, they have left a bequest to assure giving in perpetuity. They are unassuming. Their legacy represents and encourages faith, family, and community service.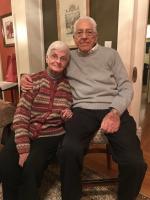 Paul and Joanne D'Aprile