OUR NEWS
Over $51,000 in Grants Announced at Women & Girls' Fund Annual Meeting & Grantee Reception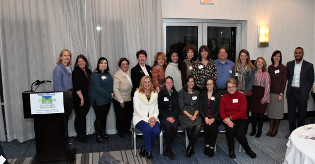 January 18, 2018 - The Women & Girls' Fund of Main Street Community Foundation is built on partnerships. Partnerships with donors. Partnerships with communities. Partnerships with nonprofit organizations. All working to improve the conditions and opportunities for local women and girls.
That was the cause for celebration at the Women & Girls' Fund's Annual Meeting & Grantee Reception on January 18, 2018. The event gathered together donors, community members and Fund representatives to award a record $51,111 in grants to 14 organizations serving women and girls in Bristol, Burlington, Plainville, Plymouth, Southington and Wolcott.
Grants were made possible with the proceeds from the annual Wonder of Women (WOW) event, the Barbara Hackman Franklin Fund for Women, the John & Gloria DiFrancesco Fund for Women and Girls, the Dumont Family Fund, the Furey Family Fund and the Smith Family Charitable Fund.
"We are thrilled to be announcing over $51,000 in grants thanks to the generosity of the many donors who believe in the mission of the Women & Girls' Fund," said Dawn Nielsen, Chair of the Fund's Advisory Board.
Representatives from the grantee organizations spoke to Women & Girls' Fund donors and representatives about the programs funded and the impact they will have on local women and girls. Grants were awarded to the following organizations for the purposes described:
Boys & Girls Club of Bristol Family Center - SMART Girls, a health, fitness, education and self-esteem program to meet the developmental needs of girls 13-18
Bristol Family Resource Center - Education and support for Licensed Day Care Providers
Bristol Preschool Child Care Center - Three early learning workshops for parents and children which will focus on early literacy and language and physical development
Bristol Youth Services - Skills to Pay the Bills, a program that provides social/family life education and independent living skills
Connecticut Women's Education & Legal Fund - Increase access of low income women to free legal information, bilingual advocacy and referrals to low cost attorneys
For Goodness Sake - Provide families with either a Basic needs basket or an Appliances/Linens package as they make the transition to independent living
Girl Scouts of Connecticut - 2018 summer camperships
Imagine Nation, A Museum Early Learning Center - A Healthy Imagine Nation – Creating a Happy Healthy Start, a program to promote a healthy lifestyle to children and their families
Jane Doe No More - Safe Student Initiative, a program to educate students at Lewis S. Mills High School on the prevention of sexual violence
John J. Driscoll United Labor Agency - Building Pathways CT, an apprenticeship program for women in the construction trade
Literacy Volunteers of Central Connecticut - Family Sustainability through Literacy Plus, a program to increase reading, writing, math and financial literacy for women and their children
Prudence Crandall Center - Partnership to Promote Healthy Relationships, a program that provides domestic and teen dating violence prevention services for youth in Plainville Community Schools
Rushford Center - Support to provide women in the behavioral health outpatient treatment programs with alternative therapies such as yoga, meditation and fitness training
The Children's Museum - Girls & Science, a program that provides female students in grades 1-6 from the Boys and Girls Club of Bristol to participate in a one-week, hands-on STEM summer camp program
Leading the Fund into the next year is a new slate of officers. Officers serving for 2018 are: Julia Weston, Chair; Susan Moreau, Recording Secretary; Lisa Palen, Treasurer; and Dawn Nielsen, Past Chair. In addition, the following Advisory Board members were reelected to a second three-year term: Sofia Bayne of Bristol; Catherine Cassin of Bristol; and Ursula Sowinski of New Britain.
"The Advisory Board guides the work of the Women & Girls' Fund," stated Julia Weston. "We're grateful for their valuable expertise as we head into the Fund's 17th year and continue to serve the women and girls in your communities."