Community Impact
Out in the Community
June 2022 - Published in: 2021 Annual Report - Main Street Community Foundation prides itself on being an active member of the communities it serves. While the staff of MSCF serves on local level committees, teams and task forces, the Foundation staff can often be found at fundraising and volunteering events. After all, MSCF recognizes that a lot more goes into improving the conditions and opportunities for local residents than just dollars. Just two of the ways we found to support the community are: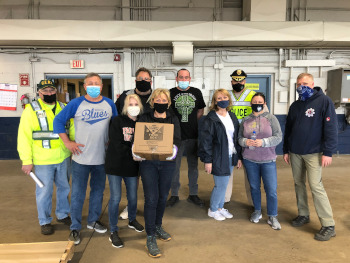 Farmers to Families
MSCF staff members teamed up with other community volunteers to support the Farmers to Families food distribution that has been active since the start of the pandemic. Nearly every distribution for over a year, dozens of members of the community handed out boxes of food to residents who needed food due to the financial constraints the pandemic placed on them. The Farmers to Families initiative was organized in Bristol by the United Way of West Central Connecticut and the City, and in total 35,505 boxes of food were distributed weighing over 1 million pounds. This program saved the community nearly $1.5 million if they had purchased the same items at the grocery store.
Turning the Town Teal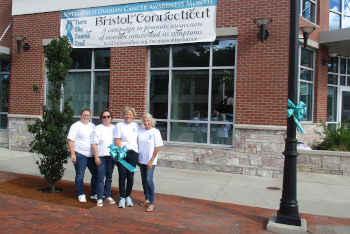 You may notice that every year during the month of September, the City of Bristol turns teal. That is due to a campaign during National Ovarian Cancer Awareness Month to raise awareness of ovarian cancer and its symptoms led by Bristol residents Tony and Judie Lodovico. For nearly a decade, the MSCF staff has joined other volunteers in hanging teal bows on lightposts and trees, handing out symptom cards to local businesses and placing signs around the city.
Next time you see us out in the community stop by to say hi - and help out!