OUR NEWS
Local Students Share $135,000 in Scholarship Awards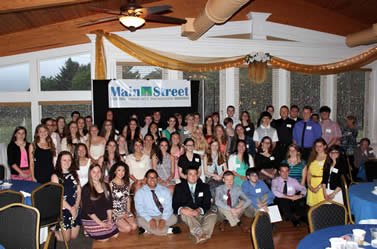 June 12, 2014 -Main Street Community Foundation has awarded nearly $135,000 in scholarships to an outstanding group of 121 students at varying levels of their academic careers from the towns of Bristol, Burlington, Plainville, Plymouth, Southington and Wolcott as well as other communities.
The scholarship grants were awarded during the Foundation's annual Scholarship Reception at Hawk's Landing Country Club in Southington on June 12, 2014. The ceremony was attended by close to 230 people.
"The talent and potential for success represented by this year's scholarship recipients is impressive," says Susan Sadecki, President & CEO of the Community Foundation. "We are thrilled to support these students and grateful to the donors whose generosity make these awards possible every year."
This year a total of 146 scholarship grants were awarded from 57 named funds administered by the Community Foundation and established by generous local individuals, families and businesses. Although each scholarship has unique criteria, all donors seek to assist students in pursuing their education and achieving their goals and dreams; they have a belief that helping students ease the financial obligations of education is an investment in the future.
All scholarships are awarded through a competitive application process. A selection committee appointed by the Foundation's Board of Directors evaluates all applicants before recommending recipients.
The 2014-2015 scholarship recipients are as follows:
Christian Arndt Scholarship: Karlee Picard
E. Bartlett Barnes Journalism Award: Schae Beaudoin and Taylor Yurchyk
4 Burns St. Joseph/St. Paul Scholarship: Zachary Jones and Derek Schinkel
Sid Bernard Memorial Art Scholarship: Jack Ieronimo
Peter and Marjorie Bossi Scholarship: Alexandra Rindfleisch
Bowerman Scholarship: Cooper Madden-Hennessey
Bristol Boys & Girls Club Schulman Fund: Sarah Ercoli, Shayne Harris and Monica Wislocki
Bristol Lions Club F. Fred Soliani Memorial Scholarship: Emma Dinh
Bristol Police Union Scholarship: Kyla Nichols
Bristol Yale Scholarship: Emma Dinh and Adaliss Rodriguez
Burlington Lions Charities Scholarship: Teagan Dunn, Spencer Maloney and Kathryn Merritt
Conn Acoustics Scholarship: Kara Baillargeon
Peg Coughlin Nursing Scholarship: Sofia Gonzalez
Richard A. DellaVecchia Scholarship: Rachel Klem and Colin Murphy
Karen Finder Scholarship Fund: Caleigh Poitier
Carolyn Fisher Scholarship: Karen Littau
Andrew and Murielle Giacomini Scholarship: Lauren Vallee
Azilda Hebert Music Scholarship: Caroline Boyce
Dorothy Ives Award: Caroline Boyce
Grace & Norma Joy Scholarship: Skylar Wright
Lena M. & Peter I. Korotie Scholarship: Madison Shea
Vincent T. Kozyrski Scholarship: Emma Dinh
Sean Landry Memorial Basketball Scholarship: Bailey Doran
Doris Lazorik Memorial Scholarship: Emma Dinh and Brittani Murphy
Leger Initiative for Education Fund: Kris Spence
Dave Lepore Journalism Scholarship: Grace Gagnon
Thérèse MacCallum "Great Kid" Scholarship: Emily Bonomi and Brooke Cochrane
Nicholas P. Maglio ACE Fund: Joanna Korpanty
Malerbo Memorial Scholarship Fund: Pia Barlotta, Sophia Barlotta, Jaymie Bianca, Alyssa Carlone, Hannah Cifone, Bianca DiLernia, Jonathan Hylan, Kimberly Hylan, Zachary Jones, Adam Levesque, Morgan Middleton, Andrew Pahl, Amethyst Peterson, Wayne Sharp, Brandon Trudel, Kyle Turner, Derek Wiecki, Paul Wiecki
Main Street Community Foundation Scholarship: Julia Jarmoszko
Elizabeth I. and Louis J. Matt Medical Scholarship: Tyler Sheldon, Julia Vanassee and Skylar Wright
Robert E. & Angeline P. McCormack Scholarship: Olivia Corriveau
McMaster—Moulthrop Scholarship: Robert Jacques, Nadia Kreciglowa, Sarah Larson, Brittani Murphy and Skylar Wright
Ken E. Micloskey Award: Jack Ieronimo
NESMA Scholarship: Emma Dinh
AJR Nocera Memorial Scholarship: Rachel Klem and Kris Spence
Scott W. Organ Student Athlete Scholarship: Lauren Vallee
Ralph Papazian Memorial Scholarship: Jenna Rodjenski
Estelle Delano Peterson Scholarship: Luke Boylan
Plainville Blue Dolphins Scoreboard Fund: Shayla Beausoleil, Megan Farmer and Andrew Rottier
Dorothy Dewey Picard Scholarship: Michael Petit
Plymouth Community Club Scholarship: Brooke Borda
Radcliff Family Education Fund: Bethany Cucka, Maria Hoppe, Katie Pelkey, Ivy Yung
Radcliff Plainville High School Fund: Stephen Gallo, Vincent Mullin, Alexis Rodriquez, Charles Romanow
Louis J. Rascoe Scholarship: Karen Littau
Clement J. Roy Scholarship: Caroline Boyce
Lawrence (Larry) Scelza Memorial Scholarship: Danielle Dickinson
Glo Sessions Fund for Art Education: Amy Ozga
Jill Lynne Shackett Educational Scholarship: Sean Palzere
Southington Observer/StepSaver Scholarship: Rachel Klem
Jay & Elizabeth Tyrrell Scholarship: Amy Ozga
Peggy Ann Walsh Memorial Scholarship Fund: Robert Jacques, Brittani Murphy, Katie Pelkey and Skylar Wright
Kristen Warner Scholarship: Diane Hassanieh and Rachel Klem
John Whitcomb Scholarship: Sean Palzere
Yarde Metals Memorial Scholarship: Sara Billett, Emma Billett, Nicole Collin, Timothy Going, Katharine Graham, Jonathan Hvozdovic, Karen Littau, Cole Middleton, Laura Miller, Leah Miller, Jennifer Thorpe
In addition to those listed, 39 students attending St. Joseph School in Bristol received a scholarship award from the Keating-Monaghan Memorial Scholarship Fund, while one student attending St. Matthew School in Bristol was awarded with a scholarship grant from the St. Matthew School Scholarship Fund.