OUR NEWS
New Community Resource for Men and Boys Introduced
May 11, 2017 - A new fund at the Main Street Community Foundation is providing financial resources for local men and boys. The Men & Boys' Fund is designed to both support existing programs and provide for immediate individual needs in Bristol, Burlington, Plainville, Plymouth, Southington and Wolcott.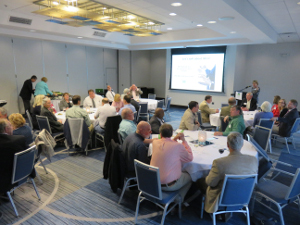 At the debut event on May 9th at the DoubleTree by Hilton Hotel Bristol, 50 community members heard presentations on the local needs the fund is already beginning to address. Attendees also heard from community leaders who relayed the specific needs of the men and boys they work with and how the fund can strengthen the social services safety net. The Men & Boys' Fund seeks opportunities to make it possible for men and boys to improve the quality of their lives, increase self-sufficiency, and make a positive difference in their communities.
"We're delighted and proud to add this fund to the Main Street Community Foundation's family of more than 200 funds," said Susan Sadecki, President & CEO of Main Street Community Foundation. "Together with a very dedicated group of community leaders, we spent months researching the needs and gaining support in the six communities we serve."
Kim Carmelich, Resource Development Coordinator at the United Way of West Central Connecticut, addressed the crowd about how she has seen a disparity between funds for women and children and funds that specifically target men, fathers, and boys. Michael Audette, a retired Bristol Public Schools principal, described current men and boys' issues he has seen. He also talked about several programs that have insufficient or no funding.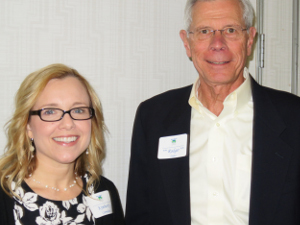 The Fund's Advisory Board Chair, Rodger Stotz of Southington, gave a few examples of the type of funding the Men & Boys' Fund is providing. One local formerly homeless man needed money to pay for a night in a hotel while his new apartment was being prepared. Before the Fund was formed, an unemployed man who earned a job driving truck had to turn down employment because he could not pay $95 to renew the required license.
Encouragement, advice, and assistance have flowed to the Men & Boys' Fund from the 16-year-old Women & Girls' Fund at the Community Foundation. "The support and wisdom we've received from both the Main Street Community Foundation staff and the Women & Girls' Fund has been unbelievable," said Stotz. "The Fund is a shining example of what we hope the Men and Boys' Fund can become." During a surprise presentation at the May 9th event, the Women & Girls' Fund showed their support and commitment to collaboration by awarding the Men & Boys' Fund a $1,000 grant.