Community Impact
A Conversation with a Past Scholarship Recipient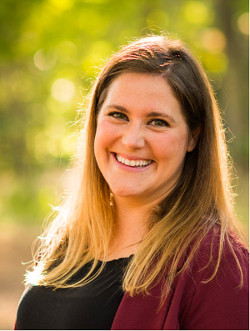 March 2018 - Natalie Minor Ponte grew up in Bristol and graduated from Bristol Eastern High School in 2002. That year, she received scholarships from two endowment funds at Main Street Community Foundation to assist her in achieving her educational and career goals: the E. Bartlett Barnes Award of Journalism Fund and the Bristol Boys & Girls Club Schulman Fund.
How did receiving scholarships impact you?
Tremendously. I was fortunate enough to have parents who were able to save money for my college education, but I had my heart set on Boston University (BU), and it was expensive. The scholarships I received were crucial in enabling me to attend my dream school and pursue my career.
One of the scholarships you received was for students pursuing journalism or a writing related career. How did you use journalism/writing in your career?
Although I started as an English major, I ended up graduating from BU's College of Communication with a focus on Advertising. I originally wanted to work in book publishing, but I ended up getting an internship at Facebook when I was a senior in college, and that became my full-time job for more than a decade after graduation. I used and still use the writing skills I acquired at BEHS and at BU in my career, though; whether that was building persuasive proposals to win advertising dollars, or creating marketing and training materials for our customers, I never stopped writing professionally. I even wrote a public blog post for Facebook in my early days.
Did anything specific change your perspective or redirect your plans at any time?
Yes. I loved reading and writing, and I loved my English classes - but after my first semester at BU, my dad sat me down and told me if I planned on being an English teacher, he'd rather I attend a state school closer to home, where the teaching programs were excellent and far less expensive. I understood him, though - he knew I didn't want to be an English teacher, and he wanted me to take advantage of the career opportunities at BU by learning a job skill versus just focusing on liberal arts. That's how I wound up switching majors (but still minoring in English!), and he was right - that decision set me on the path to a career that I love.
Are you currently doing anything to give back to your community or the community you grew up in?
Yes. I was involved in Youth Journalism International when I applied for the scholarship you mentioned, and I try to donate and support them whenever I can. I'm also involved in my sons' preschool.
What is your passion?
It's so hard to pick one thing and focus on it! I'm passionate about access to education and economic equality and trying to find the best way to make an impact there. On a more personal level, I love to write and recently have gotten back to writing short stories for fun.
Do you have any advice for current or future scholarship recipients?
I think many students feel that private colleges, or out of state schools, are unattainable because they're so expensive, and it's true. But even if you're not a straight-A student, there are a number of organizations like the Main Street Community Foundation who offer scholarships to all types of different students. It's possible to cobble together a combination of scholarships, financial aid from school, student loans and savings to attend the school of your dreams. Think about what does make you stand out, even if it's not your grades. Is it a hobby, a cultural tradition, or maybe a commitment to giving back? Think about what makes you who you are and you may be surprised how many organizations will be willing to help you pursue those interests at a college level.
Where do you live now and what is your current occupation?
I now live in Connecticut in Fairfield County, and I commute to work in the city. I worked at Facebook for a long time, and with that job I went from my internship in Boston to headquarters in Silicon Valley, California to London and finally back to New York. About two years ago I left Facebook and I now work for a company called Tenor - we make the GIF Keyboard, and my job is to work with entertainment and publishing companies to get GIFs from your favorite shows into the platform. If you've ever sent an SNL GIF through Facebook, for example, it's possible I helped put it up there. It's funny for me to work in a field where images are in some ways replacing the written word, but it's also fun and exciting and I believe visual language helps us express ourselves in ways that words alone cannot.
Do you have anything else to share?
Connecticut residents are extremely lucky to have a number of excellent and affordable public schools in-state. That said, I know my experience leaving the state to attend university set my sights higher and gave me more opportunities than I would have had if I'd stayed local. While it's not for everyone, for students in Bristol curious about the world outside, I recommend trying to go to school in a different area, especially one that's close to a major city. The opportunities for internships are so much greater, and solid internships are the best way to land a great job right out of college. Even if you ultimately want to move back to Connecticut, college is a perfect time to explore another place and bring that experience back home. If attending school out of state is not an option for you, I highly recommend looking into doing a semester abroad (or even a semester in a different city within the US, which many schools offer). These are all ways to take advantage of your time in college to have experiences you might not have access to otherwise, and that can open your mind and change your life for the better.