Nana Jane's Fund
This donor advised fund was established in 2017 by an anonymous donor to honor the memory of Wolcott resident Jane Woodard. Grants will be made to charitable organizations for general charitable purposes primarily in the Foundation's service area at the recommendation of the donor.
Jane Woodard was the daughter of Swedish immigrants, wife of a WWII Army Veteran and a woman ahead of her time. As a delegate to the CT Constitutional Convention in 1965, she helped rewrite our Constitution. She was Treasurer of the Town of Wolcott, Vice Chairwoman and honorary member of the Republican Town Committee and the Republican State Central Committee. She served as executive secretary to Mayor Ed Bagley, served as Deputy Registrar of Voters, President of the Women's Club and member of the 175th Anniversary Committee among many other volunteer activities all while raising her family in Wolcott.
She was a career woman when most of her contemporaries were mainly involved in the care of home and family. She was an amazing mother, grandmother and friend to all; and she made her mark on her beloved State of Connecticut.
Jane Woodard is an example of what an individual can achieve with perseverance, dedication, and commitment to what is right and good for all. From a difficult and humble beginning to a life of service to her family, her town, and her state; her life can provide inspiration to all.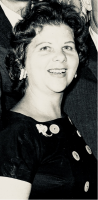 Jane Woodard