OUR NEWS
Men & Boys' Fund Supports Parent & Child Center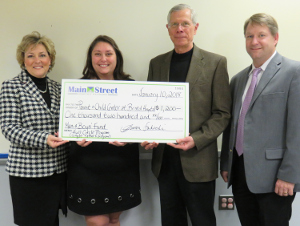 January 12, 2018 - On Wednesday, January 10th Bristol Hospital's Parent & Child Center was awarded a $1,200 grant to support the Full Circle Program for single fathers. The grant from Men & Boys' Fund at Main Street Community Foundation will enable the hiring of a program director. Starting this month, Full Circle will help young fathers who parent alone build stronger relationships with their children and increase their parenting skills.
Established in 2016, the Men & Boys' Fund seeks to make it possible for men and boys to improve the quality of their lives and make a positive difference in their communities. This grant is the result of the Fund's first grant cycle.
The grant was awarded during a small ceremony at the Parent & Child Center. Susan D. Sadecki, President & CEO of Main Street Community Foundation, along with Rodger Stotz, Chairperson of the Advisory Board of the Men & Boys' Fund, and Richard Carmelich of the Distribution Committee of the Men & Boys' Fund, presented the grant to Amanda Sawyer, Executive Director of the Parent & Child Center.