OUR NEWS
Men & Boys' Fund Supports Bristol Youth Services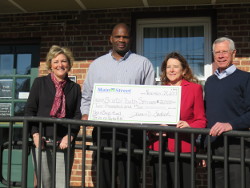 November 29, 2017 - On Tuesday, November 28th Bristol Youth Services was awarded a $2,000 grant to support the Skills to Pay the Bills program. The grant from the Men & Boys' Fund at Main Street Community Foundation will expand the program, which has been offered to young women for the past 10 years, to include young men attending Bristol Public Schools. Skills to Pay the Bills educates high school students on personal finance, healthy eating, and other life-skill essentials that increase their ability to make uplifting decisions and become independent, productive men in society.
Established in 2016, the Men & Boys' Fund seeks to make it possible for men and boys to improve the quality of their lives and make a positive difference in their communities. This grant is the result of the Fund's first grant cycle.
The grant was awarded during a small ceremony on November 28 at Bristol Youth Services. Rodger Stotz, Chair of the Men & Boys' Fund Advisory Board, along with Susan Sadecki, President & CEO at the Community Foundation, presented the grant to Stephen Bynum and Eileen McNulty of Bristol Youth Services.