OUR NEWS
Main Street Community Foundation Celebrates Musical Grant Recipients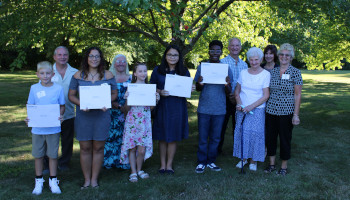 On September 1st, Main Street Community Foundation hosted a reception for seven Bristol students in grades 4-8 who were the recipients of awards from the Community Foundation through the Dan Cistulli Memorial Music Fund. Established by the family of Dante (Dan) Dominic Cistulli II after his sudden passing in January 2004, this fund assists young people in Bristol with a love for music, who need financial assistance with lessons and/or instruments. This year, a total of $1,020 was awarded to provide lessons for the students, which ranged from saxophone, to singing, to clarinet and bassoon. Depending on their skill level, the students received either three one-hour music lessons or six to seven half-hour music lessons this summer.
The reception held at the Foundation's office was an opportunity for the students and their families to meet each other as well as the Cistulli family, and connect over their shared love of music. "Music was my brother's life," Dan's brother, John Cistulli said, "He lived it, he played it, he wanted other people to have a part of that music. Our family feels very grateful to have the ability to give these awards out to these young musicians. Dan would be very pleased to know his love of music is being carried on." Additionally, each student received a certificate to congratulate them on their hard work and completing their summer lessons.
Anyone interested in making a contribution to the Dan Cistulli Memorial Music Fund may do so at any time by donating online or by sending a donation to Main Street Community Foundation, P.O. Box 2702, Bristol, CT 06010.