OUR NEWS
Louise (Humphrey) Van Gorder Music Camp Scholarship Available to High School Students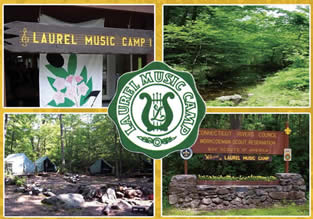 March 18, 2015 - She wanted to support her music students and provide them the opportunities she had. Annually, Louise (Humphrey) Van Gorder, a lifelong Bristol resident, would give a scholarship to a young and talented musician to attend Laurel Music Camp in New Hartford. When Louise's health began to decline, her family and friends decided to establish the Louise (Humphrey) Van Gorder Music Camp Scholarship Fund at Main Street Community Foundation so her tradition of assisting avid music students could continue.
Louise's true passion in life was music. She began taking viola lessons in elementary school, and her talents led her to Laurel Music Camp and to the Bristol Symphony Orchestra. She thrilled audiences throughout the world with her skills, but always came back to her roots. Louise began teaching violin and viola, instilling the love of music in all of her students. With her husband Bob, she founded Fiddlin' Around Music, a music shop in Bristol, and the Bristol String Orchestra.
"Louise was an inspiration. She was known for instilling confidence in her students and encouraging them to pursue their passions," stated Bob. "One way she did that by offering her students the chance to attend Laurel Music Camp, a place that had a tremendous impact on her."
Laurel Music Camp is an annual week-long music camp held at Camp Workcoeman in New Hartford with performance opportunities for students in four ensembles: Concert Band, Orchestra, Choir and Jazz Band. In 2015, Laurel Music Camp will be held June 27 – July 3.
The Louise (Humphrey) Van Gorder Music Camp Scholarship will award a scholarship to a music student – instrumental or vocal - currently in 9th through 12th grade from Bristol, Burlington, Plainville, Plymouth, Southington or Wolcott who wishes to attend Laurel Music Camp. The student must demonstrate a passion for music, and preference will be given to those who play a string instrument.
"I am thrilled that we will be able to continue to assist students who have the same fervor and commitment to music as Louise," said Bob.
Applications for the scholarship are being accepted through April 20, 2015, and is available on the Foundation's website.
Anyone interested in making a contribution to the Louise (Humphrey) Van Gorder Music Camp Scholarship may do so at any time by sending donations to: Main Street Community Foundation, P.O. Box 2702, Bristol, CT 06010 or making a donation online.