Community Impact
Inside View of MSCF by Kevin Kryzwick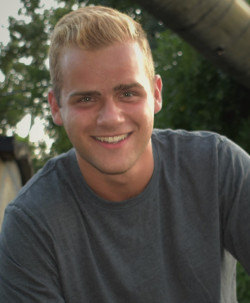 Kevin worked as an intern at MSCF during the Summer of 2018. Kevin wrote the following article upon completion of his internship.
This summer, I had the pleasure of working with the amazing staff of the Main Street Community Foundation. It was an experience that not only enriched my knowledge of Philanthropy, but also enhanced my appreciation for it.
My relationship with MSCF started in 2015 as I aspired to earn the rank of Eagle Scout. As a part of my goal, I needed to complete a service project that had a lasting effect on my community, so I decided to take on the rather expensive task of building Burlington's first sand volleyball court. The project was estimated to cost $6,800, well over the average budget for an Eagle Scout Project, and it would be irresponsible of me to handle such an amount by myself. After talking with my project mentor, he suggested that I contact the Main Street Community Foundation to ask for help. I had spoke with Susan Sadecki, President & CEO of MSCF, via email for a while until we met in person at the Foundation where we discussed some concerns. The obstacles were understandable as I, a sixteen year old boy at the time, came in asking to set up a fund. However, Susan agreed to take a leap of faith, and the Malerbo Volleyball Court Fund was established. Ultimately, the fund accumulated $7,800 in small donations and the volleyball court was built by the end of the year. I was awarded the rank of Eagle Scout the following year, and I could not have been more happy and grateful for what MSCF had done for me.
Fast forward three years, in the spring semester of my first year at Fairfield University as a business major. I reached out to Susan again, this time with the hope to come in as a volunteer and give back to the organization that helped me so much before. I started the internship in May and was immediately welcomed into the MSCF family. I was given projects that were valued by the Foundation which gave me a great sense of pride. My duties included reformatting over 20 years of grant history for easy retrieval of information and data analysis. I also had the opportunity to conduct a needs assessment for the various animal welfare facilities within the Foundation's service area. It was my job to research each facility as well as their prospective projects and create an educated recommendation for the allocation of funds left over from the general grant cycle. On top of all this, I learned the fundamental workings of a community foundation by shadowing different members of the MSCF staff. I also got the chance to sit in on multiple meetings and conferences with other community foundations in Connecticut, observing how they work together to make a greater environment for residents across the state.
Through my time at the Main Street Community Foundation, I have observed how hard the staff works and the joy they exude knowing they are making a true impact on the world around them. With my internship and prior relationship with MSCF, it is easy to see how they better the world by more than just awarding grants. They are a beacon of change and growth within so many people's lives, and I am so honored and grateful that they helped change mine.