OUR NEWS
Hartford Foundation for Public Giving, MSCF and Community Partners Launch Voter Engagement Social Media Campaign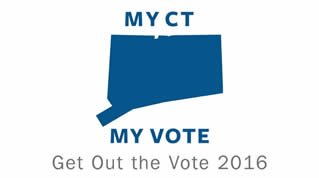 October 04, 2016 - Do you remember the feeling you had the first time you cast a vote in an election? Maybe you felt like you were finally an adult; perhaps you felt empowered. Maybe this was the first time you ever voted in this country or in any country. These are some of the experiences that will be shared as part of a new social media campaign being launched by the Hartford Foundation for Public Giving, in collaboration with community foundations throughout Connecticut includingthe Community Foundation of Eastern Connecticut, Connecticut Community Foundation, Fairfield County's Community Foundation,MetroHartford Alliance and the Connecticut Council for Philanthropy. The campaign, titled "My Hope. My Voice. My Vote." will use videos and graphics to remind people of just how good it feels to cast their vote, and provide useful information about voting in Connecticut.
"The Hartford Foundation believes in the value of resident engagement and participation in the electoral process," said Linda J. Kelly, president of the Hartford Foundation. "As more of us participate in elections, the more powerful our collective voices become at the local, state and national levels. This campaign encourages residents to vote and provides easy access to the information needed to register and vote."
The Hartford Foundation's strategic focus on creating more vibrant communities emphasizes the importance of fostering meaningful and inclusive civic engagement. This campaign marks the beginning of an ongoing effort to provide greater opportunities for all residents of Greater Hartford to share their concerns and develop solutions to the challenges we face.
The effort includes videos of three individuals' voting experiences and illustrates how participating in the democratic process can hold very different, but incredibly positive feelings for each person. Each video shares a personal perspective on the voting experience, connecting family or community history to our present day.
The campaign also includes an educational component, providing important dates, deadlines and other useful statewide voting information in a positive, approachable, consumer-friendly way. Individual social media posts, accompanied by engaging graphics and useful links, will provide critical information about how to register to vote, how to receive an absentee ballot or how to find a voting station, and how Connecticut is just one of four states where returning citizens can vote (once they have completed their sentences and completed terms of parole).
The social media campaign will be shared through Hartford Foundation and other funders' social media channels. Posters in English and Spanish will be distributed to libraries throughout the region. The campaign will also provide opportunities for blog posts and home page communications on participating organization's websites. Materials will be added to www.hfpg.org/vote as the campaign progresses.
A campaign kit will be distributed to help amplify these messages through various community foundations and local libraries. This kit consists of videos, graphics, a posting schedule and call-to-action copy that organizations can easily share through their own social media channels.
The Hartford Foundation for Public Giving is the community foundation for Hartford and 28 surrounding towns. In 2015, the Foundation celebrated ninety years of grantmaking in the Greater Hartford region, made possible by the gifts of generous individuals, families and organizations. It has awarded grants of more than $650 million since its founding in 1925. For more information about the Hartford Foundation for Public Giving, visit www.hfpg.org or call 860-548-1888.