OUR NEWS
Grant Awarded Continues Legacy of Local Teacher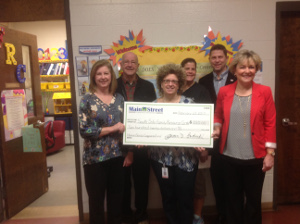 March 8, 2017 - Sandy Caggiano, affectionately known as "Mama" to those close to her, was a devoted teacher who worked in the Bristol School system for 30 years. Beginning her career as a remedial reading teacher through the Title One program at South Side School, Sandy Caggiano saw how important additional supports for families and students were. Continuing her legacy of giving back to the schools, a $220 grant was awarded from the Mama Sandy Caggiano Fund at Main Street Community Foundation to support the Family Resource Center at South Side School.
"This grant will help provide scholarships to South Side School students who wish to attend education and fun summer camp programs by assisting their families with the cost of attendance," said Linda Rich, Director of the Bristol Family Resource Centers. "In the past, we have been able to help students attend camp at the Bristol Parks & Recreation Department or Indian Rock Nature Preserve as well as specialized sports camps."
The Family Resource Center at South Side School is one of three Centers in Bristol, the other two being located at Greene-Hills School and West Bristol School. All three centers provide programming to students and families with a strong emphasis on early childhood development, positive youth development and the support and education of parents and caregivers.
The Mama Sandy Caggiano Fund was established in 2015 by Sandy's family to honor her memory and all that she cared about. Sandy passed away in April 2010 after a courageous battle with cancer.
"As we presented the inaugural grant from the Fund to the Family Resource Center at South Side School, we were proud to see the impact the Center has," said the Caggiano family. "We are very thankful to Main Street Community Foundation and all those who generously gave to the Fund for helping us carry on Sandy's legacy. We cannot wait to see how her legacy will continue to impact the Center and Bristol students."
The Fund will provide an annual grant to the Family Resource Center at South Side School to support children and families serviced by this program.