OUR NEWS
Foundation Announces Near-Record Grants in 2013 at Annual Meeting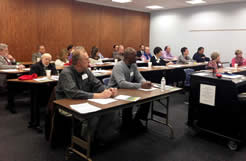 (March 7, 2014) - At its annual meeting on March 7, Main Street Community Foundation announced that it distributed a near-record $1.2 million in grants and scholarships in 2013 to benefit the residents of Bristol, Burlington, Plainville, Plymouth, Southington and Wolcott.
"We were able to award this remarkable amount thanks to the community's very generous people," said Susan D. Sadecki, President & CEO of the Community Foundation. "For 18 years, and continuing," she explained, "they have established a total of 182 funds and made contributions that fuel these grants to their favorite nonprofits, their towns and their most passionate causes, like education, healthcare, and the environment. We are honored to help our donors carry out their wishes and accomplish their goals – now and forever."
Sadecki said grants were awarded from funds for scholarships, particular nonprofits, specific fields of interest or issues, annual recommendation by donors, or funds left to the Community Foundation's full discretion to meet an emerging need.
She added that the $1.2 million in grants is the second largest total in the Community Foundation's 18-year history. "We've returned to pre-2008 recession grantmaking levels," Sadecki noted.
13 new funds established; $1.8 million in total contributions
The Community Foundation received $1.8 million from nearly 700 contributors in 2013, Sadecki reported. Forty-seven percent of the contributions came in the form of 13 new funds, which are:
Wally Barnes Fund for Community Leadership Initiatives, to support leadership initiatives identified by the Foundation;
Sid Bernard & Ed Miller Children's Fund for the Visual Arts, to support programs and projects that teach innovative or traditional art education skills;
Bristol Talks Teal Fund, to raise awareness of ovarian cancer;
Caiaze Family Charitable Fund, a donor advised fund;
Calvanese Foundation Green & White Fund for Behavioral Health, to support adults and children residing in Southington who are in need of mental health and/or substance abuse treatment;
George & Maureen Carpenter Family Charitable Fund, a donor advised fund;
Friends of Bristol Parks and Recreation Fund, to be used for park enhancement projects;
Samuel Goodsell Park and Playground Fund, to support the care, maintenance, improvement, acquisition and extension of parks and playgrounds;  
JoAnn & David Mills Family Fund, to support a variety of charitable organizations;
Al and Joan Monico Scholarship Fund, to provide tuition assistance to a Bristol resident;
Ralph Papazian Memorial Scholarship Fund, to provide a scholarship to a Bristol high school senior;  
Holly Scanlan Memorial Fund, to support families afflicted by cancer;
Jill Lynne Shackett Educational Scholarship Fund, for Bristol students who desire to pursue a major in education.
The remaining contributions were to existing funds.
Community Foundation Realizes 14% Investment Return, Assets Grow to $33 Million
The Community Foundation's assets grew to more than $33 million by the end of 2013, Sadecki said, and gifts were only one factor.
"Thanks to wise spending policies and careful monitoring, the Community Foundation realized a 14 percent net return on its investments in 2013," she explained. "Our Board of Directors monitors the portfolio closely to ensure that we meet a goal of balancing current year grantmaking needs with long-term endowment growth.
"This strong return helped to bolster the endowed funds by preserving and growing the assets so the funds can continue to give back to the community even if there is a down year in the future," concluded Sadecki.
Annual Meeting Returns Four to Leadership
After looking back on the past year, the Annual Meeting focused on the future of the Community Foundation, and specifically the leadership. The board of directors reelected four members with terms to expire in 2017. Those directors are: Valerie DePaolo of Southington; Val Dumais of Plainville; David England of Tunxis Community College; and Barbara Fontaine of Bristol.
"The Board of Directors plays a crucial role in guiding the Foundation's work," said Sadecki. "We're grateful for their valuable expertise as we head into the next year."