OUR NEWS
Foundation Joins National GivingTuesday Movement - How Will YOU Give Back?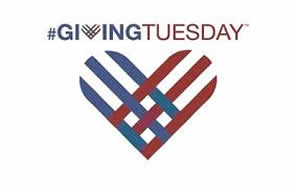 November 05, 2014 - The end of the year is often filled with spending money on material items. But the end of the year is also about giving back. Main Street Community Foundation has joined GivingTuesday, a national movement around the holidays dedicated to giving. The movement culminates on December 2, 2014 – the Tuesday after Thanksgiving – with a global day of giving.
GivingTuesday is a first of its kind effort that harnesses the collective power of a unique blend of partners—nonprofit organizations, families, businesses and individuals—to transform how people think about, talk about and participate in the giving season. Coinciding with Thanksgiving and the kickoff of the holiday shopping season, GivingTuesday inspires personal philanthropy, encourages people to take action to improve their local communities and celebrates giving to all organizations and causes.
"Anyone can participate in GivingTuesday, and we invite everyone to," stated Susan Sadecki, President & CEO of the Community Foundation. "Give back to your community in a way that is meaningful for you, whether it is through volunteering at a local nonprofit or donating monetarily or in-kind to a favorite cause."
To assist local residents who want to give back but are not quite sure how, Main Street Community Foundation has created the Community Wish List, a collection of needs of nonprofits serving the towns of Bristol, Burlington, Plainville, Plymouth, Southington and Wolcott. The "wishes" include small wishes, such as food items, blankets, batteries, etc.; big wishes, such as refrigerators, laptop computers, stoves, etc.; and volunteer wishes. This list is available year-round and can be found at here. 
There are currently 28 organizations included and the majority focus on families in crisis, food and nutrition and basic needs. Donors who would like to fulfill a wish can make gifts directly to the nonprofit organization of their choice by contacting them and referring to the Wish List.
To learn more about GivingTuesday, visit www.GivingTuesday.org.  For more information on the Community Wish List, Main Street Community Foundation or how you can make a difference to a nonprofit, visit www.mainstreetfoundation.org or call the Foundation at 860.583.6363.