Community Impact
Community Sponsorships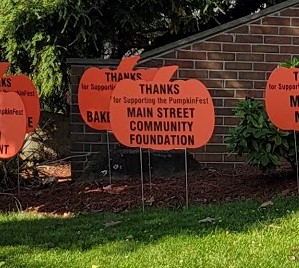 June 2022 - Published in: 2021 Annual Report - Grants are not the only way to financially support nonprofit organizations and charitable causes. Sponsorships of events or initiatives often benefit a specific program or aspect of the organization. Main Street Community Foundation regularly supports organizations in all six communities. The below are just two examples of how we've supported organizations in this way.
Plainville PumpkinFest
For six straight years, the Town of Plainville has held a PumpkinFest. With kid's activities, food trucks, vendors, a haunted house and incredible pumpkin displays, this event is truly a gathering place and celebration for the Plainville community and beyond.
SoCCA Reindeer
Southington Community Cultural Arts hosted a Reindeer Games Holiday Parade where organizations and businesses could sponsor an artistic reindeer. MSCF's reindeer was beautifully painted by Diane Sheard and Heidi Theriault. All reindeer were on display along the linear trail in Southington during the holidays, allowing residents to see them in the wild!