OUR NEWS
Community Meeting Held to Discuss Men & Boys' Fund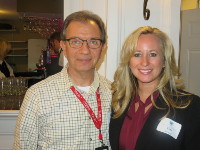 November 22, 2017 - "Emotional expression is silenced in boys. What message are we sending boys when we imply that feelings and showing emotions is a weakness?" asked Kimberly Selvaggi, Executive Director of LISA, Inc. "The boys I see show depression, fear, and anger," said John Sperduti, a counselor at Southington Youth Services. "Other emotions aren't socially acceptable so when boys have those emotions they feel shame or self-loathing." He stated many boys who have lost their ability to show empathy act out in cruel, violent, and abusive ways.
Kimberly Selvaggi and John Sperduti spoke at the Men & Boys' Fund's community meeting on the needs of local men and boys. The meeting, held at Southington's Hawk's Landing Country Club on November 14th, introduced the Men & Boys' Fund, a newly established fund at Main Street Community Foundation that works to improve the quality of life of local men and boys and help them make a positive difference in their communities.
"Input from local social service providers like Kim and John was instrumental in the decision to establish the Men & Boys' Fund last year," stated Rodger Stotz, Chair of the Fund's Advisory Board.
At the community meeting, John Sperduti gave examples of how a little bit of help can have a large impact. For example, he counseled a middle school boy who was constantly getting into fights and being suspended from school. The boy had an amazing talent for playing drums. But his drum set had sat broken for years because of the family's low income. Perhaps a grant would have allowed the family to fix the drums and the boy would gain an avenue to express a talent, do something positive, and channel his energy in a good direction.
Rodger Stotz also noted that national and local statistics reinforce the qualitative stories. Among the statistics shared was that single father households in the United States have increased nine-fold since 1960 and now total more than 2.6 million.
Through the Main Street Community Foundation, the Men & Boys' Fund is working to assist nonprofits, schools, community agencies and others to strengthen the social services safety net. At the community meeting, Rodger Stotz announced the Fund's first two program grants: $1,966 to fund Skills to Pay the Bills, a program at Bristol Youth Services and $1,200 to hire a male facilitator for the Parent and Child Center's Full Circle parenting program. In recent months the Men & Boys' Fund has also awarded five immediate response grants to give local residents a helping hand.