OUR NEWS
The Broad View Fund Awards Grant to Innovative Collaboration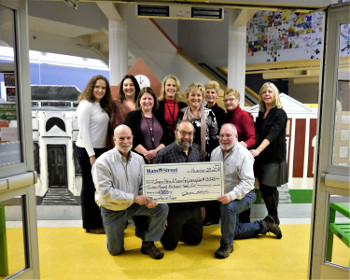 On November 28, a $13,525 grant from The Broad View Fund at Main Street Community Foundation was awarded to support a collaborative exchange between Imagine Nation, A Museum Early Learning Center, the Bristol Preschool Child Care Center, and the Talcott Center for Child Development. Together, they will be launching an innovative curriculum called Bristol=Resilient Children.
This new pilot program will impact over 500 children, families and staff in 2018-2019 at Imagine Nation, A Museum Early Learning Center (INMELC) and the Bristol Preschool Child Care Center (BPCCC). The goal of this program is to strengthen the mental health of children, educators, and parents through a multi-faceted approach that will include teacher in-service training, a parent workshop series, and the onsite services of a behavioral analyst.
Emotional health and resilience are integral to a child's well-being and future success. Educators are seeing an increase in socio-economic issues for families, childhood trauma, and challenging behaviors in young children. With limited resources it is critical that INMELC and BPCCC foster the healthy psychological development of children, parents, and teachers by providing training, strategies, and skills designed to build and nurture emotional and mental resilience.
The Broad View Fund is a donor advised fund that was established in 2016 by Bristol residents Bob Alim, Bob Boudreau and Kevin Prior, collectively known as BBK. This fund supports charitable organizations at the recommendation of the donors.
"This year the recipient of the grant was chosen through a competitive application process," said Bob Boudreau. "We looked for programs or initiatives that create game changing opportunities to support emerging issues and the social needs of the diverse cultures of Bristol residents. Bristol=Resilient Children is not only an innovative program but vital."
The grant was made possible from the proceeds of Cocktails@Eight, an annual event hosted by BBK. "This is about the spirit and energy of community and the people who come together for one night to get behind a cause that will benefit those among us who need it the most," said Kevin.