OUR NEWS
Broad View Fund Announces Beneficiaries of Annual Cocktails @ 8 Fundraiser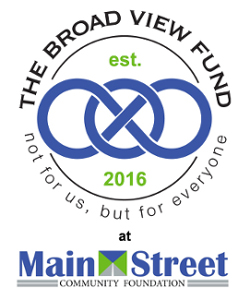 June 07, 2018 - The Broad View Fund at the Main Street Community Foundation is proud to announce the 2018 beneficiaries of the proceeds from the 12th Annual Cocktails @ 8 to be held Saturday, October 20th.
This year's proceeds will help to support the collaborative exchange between Imagine Nation, A Museum Early Learning Center, the Bristol Preschool Child Care Center, and the Talcott Center for Child Development. Together, they will be launching an innovative curriculum called "Bristol=Resilient Children". This new pilot program will impact over 500 children and families annually at Imagine Nation, A Museum Early Learning Center (INMELC) and the Bristol Preschool Child Care Center (BPCC).
health and resilience are integral to a child's well-being and future success. Educators are seeing an increase in socio-economic issues for families, childhood trauma, and challenging behaviors in young children. With limited resources it is critical that INMELC and BPCC foster the healthy psychological development of children, parents, and teachers by providing training, strategies, and skills designed to build and nurture emotional and mental resilience.
The goal of this innovative pilot program is to strengthen the mental health of children, educators, and parents through a multi-faceted approach that will include teacher in-service training, a parent workshop series, and the onsite services of a behavioral analyst.
For over forty years Imagine Nation, A Museum Early Learning Center and Bristol Preschool Child Care Center have been providing the greater Bristol community with high quality NAEYC accredited, full day/full year School Readiness Preschool and infant and toddler program. Together they are committed to a positive early education experience with hands-on, developmentally appropriate, engaging learning opportunities for young children. Their educated and highly qualified teachers foster a love of lifelong learning and assist in the healthy social-emotional development of their students. Collectively their private non-profit agencies touch the lives of thousands of children and families by providing a strong educational foundation to our youngest learners and supporting their parents and caregivers.
The Talcott Center for Child Development is a comprehensive, privately owned therapy center for children with special needs and their families. Offering occupational, physical and speech therapy services, as well as Applied Behavior Analysis (ABA), The Talcott Center for Child Development works with a vast population ranging in age from birth to 21 years. Their clinicians are skilled in working with a wide range of diagnoses, including Autism, Sensory Processing Disorder and developmental delays. In addition to individual services and group programming, they offer parent education, consultation, evaluations and outside referrals as needed.
Please plan to save the date to help support this game changing, innovative pilot program being developed to support some of the most vulnerable citizens in our community. The 12th Annual Cocktails @ 8 will be held on Saturday, October 20, 2018.