Bristol Yale/Miles Peck Jennings Memorial Scholarship Fund
Miles Peck Jennings, Sr. was a longtime Bristol resident who was intelligent, fun-loving and admired in the Bristol area. After attending Bristol public schools and graduating from Deerfield Academy, he graduated from Yale College in 1935. Miles then worked in the insurance business in Hartford before entering the banking industry in 1940, managing the life insurance department of Bristol Savings Bank. He loved to sing – he was in glee clubs throughout his schooling and then in regional groups; he loved his family – his wife, son and daughter; and he loved Bristol - he was very active in the community and civic affairs. However, he passed away suddenly at the young age of 39 on December 13, 1951. To honor and memorialize him, the Bristol Yale Club established the Miles Peck Jennings Memorial Fund in 1952.
The Miles Peck Jennings Memorial Fund was transferred to Main Street Community Foundation by the Bristol Yale Club in December 2021 and renamed the Bristol Yale/Miles Peck Jennings Memorial Scholarship Fund. Historically this fund has provided many thousands of dollars to Yale University for undergraduate students and thousands more for graduate students. Now, this scholarship will be awarded annually to graduating seniors or graduates of public, private or parochial secondary schools located in Bristol, Burlington, Plainville or Plymouth. Students must be pursuing undergraduate or graduate studies at an accredited college or university, with a preference for students attending Yale University or any of Yale University's graduate or professional schools or divisions.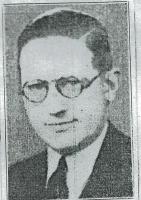 Miles Peck Jennings