Community Impact
An Ongoing Commitment to Regional Health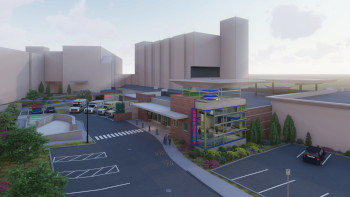 June 2022 - Published in: 2021 Annual Report - Bristol Health is a pillar in the greater Bristol community, and the Brault Emergency Center is the front door to the Hospital, caring for over 40,000 patients each year. In order to have the space and technology to care for everyone, a four-phase renovation and expansion project began in 2019. Along with many other community partners, Main Street Community Foundation stepped up, providing a five-year grant totaling $50,000 from the Money in Motion Fund to support this endeavor.
The COVID-19 pandemic highlighted the need for and importance of critical care, and the enhanced Emergency Center will provide a modern, state-of-the-art, family-oriented facility where residents can receive the care they need. In August 2019, the first phase of the project was completed: a 10-bed Emergency Center Behavioral Health Unit opened. This Unit is designed to meet the behavioral health needs of the community.
After Newell Road was regraded for phase two of the project, phase three was completed. A 13,000 square foot addition to the Emergency Room (ER) was unveiled in December 2021 coinciding with Bristol Hospital's 100th anniversary. This addition is adjacent to the current ER, and the final phase of the project will seamlessly connect the two, creating one Emergency Center.
The renovations and expansion will essentially double the size of the Emergency Center while creating an environment that is welcoming and comfortable for patients and visitors, and effective for those caring for them. Bristol Health continues its commitment to building healthier communities just as it has done for 100 years.