Community Impact
FRC Able to Continue Services Thanks to Money in Motion Grant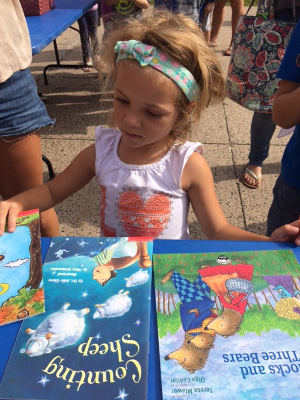 June 2018 - The Family Resource Centers (FRC's) at West Bristol School and South Side School are two of over 70 FRCs funded largely by grants from the State Department of Education. However, of the 72 original FRC's in the State of Connecticut, 15 have either closed or reduced their hours and services drastically due to cuts in funding.
In 2017, the Bristol Board of Education and Bristol Family Resource Centers received a $7,500 bridge grant from the Money in Motion Fund at Main Street Community Foundation. "Because of this grant from MSCF and support from the Bristol Board of Education, we were able to keep the doors of South Side School's Family Resource Center open with a full time certified parent educator. Each school has their own unique needs, and a school-based Parent Educator is necessary to respond effectively to those needs," said Linda Rich, Director of Bristol's FRC's.
Every FRC builds its programming around seven core components: school readiness programs, support of school-aged children, resources/referrals, families in training, adult education, support for home daycare providers, and positive youth development.
Grants from funds at the Main Street Community Foundation have been crucial to providing the seed money necessary to the expansion, enrichment and enhancement of programs at the Bristol FRC's.
In addition to the bridge grant, Bristol FRC's received four grants from funds held at the Main Street Community Foundation in 2017 to help provide targeted, quality programs and services for Bristol Families.
A $5,000 grant from the Fuller and Myrtle Barnes Fund for Education provided funds for a People Empowering People (PEP) leadership program facilitator, as well as staffing for childcare during the sessions to enable parent participation. PEP is a personal and family development program with a strong community focus that will help participants improve the quality of life for themselves and their families, be the best parents they can be, and make positive change through leadership and social action in their school or community.
"PEP is the best thing I've ever done," stated Marybeth Hicking, a West Bristol School parent of six children. "Before I participated in PEP, I did not want to lead anything. I was shy." After successfully completing the PEP Program, Marybeth Hicking has served as PTO President at West Bristol School, fills food backbacks, and has been involved in Play and Learn groups, Raising Readers, and home visits.
A $2,250 grant from the Women & Girls' Fund and a $250 grant from the Furey Family Charitable Fund supported professional development of home daycare providers so that they can provide a developmentally appropriate, safe, and educational home daycare setting.
A $220 grant from the Mama Sandy Caggiano Fund at Main Street Community Foundation helped provide scholarships to South Side School Students who wished to attend summer camp programs by assisting their families with the cost of attendance. In the past, the FRC has been able to help students attend camp at the Bristol Parks & Recreation Department or Indian Rock Nature Preserve as well as specialized sports camps.
In 2017, a total of $15,220 was awarded to Bristol FRC's through five funds at Main Street Community Foundation. This funding was an important investment in need based programs that have strengthened, educated, and empowered Bristol families and caregivers.