Community Impact
1999 Bristol Brass Challenge Program Brings Stability Years Later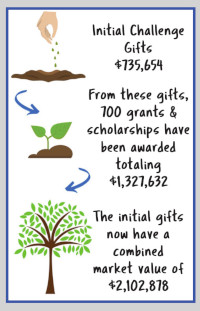 March 2020 - An important milestone in the last 25 years of the Foundation's history has been the Bristol Brass Challenge Program. This program greatly contributed to the growth of MSCF and the promotion of philanthropy in our region.
In 1998, all of the approximately $2 million in assets from the Bristol Brass Foundation, a private foundation originally established by the former Bristol Brass Corporation and in existence since 1953, were transferred to MSCF. Half of these assets were set aside as a general grant fund to be available for charitable community projects in perpetuity. The other half was earmarked as the Bristol Brass Challenge Program, a separate fund that was used as matching dollars to attract donors to establish new funds with MSCF.
Through this program, eleven new funds were established (listed below) that received a 100% match to their gifts up to $100,000, for a total of $560,654. Three funds that were transferred to MSCF received a matching gift and those were the E. Bartlett Barnes Journalism Award Fund, Bristol Yale Club Scholarship Fund and McMaster Moulthrop Scholarship Fund. The matching gifts made to these three funds totaled $175,000.
The total contributed from the 1999 Challenge Program was $735,654. Since then, over 700 grants and scholarships have been awarded from these 14 funds totaling $1,327,632. While one fund (The Family Center, Inc. Fund) retired in 2010, the total market value of the 13 remaining funds was $2,102,878 on 12/31/19.
The Bristol Brass Challenge Program truly helped grow MSCF. But more importantly, local nonprofits and donors were given the chance to ensure their organizations and communities would be financially provided for always. The following funds were established through the Bristol Brass Challenge Program:
The American Clock & Watch Museum Fund
The Bristol Hospital Development Foundation Fund
The Bristol Regional Environmental Centers, Inc. Fund (now The Environmental Learning Centers of CT, Inc. Fund)
The Bristol Police Union Scholarship Fund
The Burlington Library Association Fund
The Dennis Keenan Fund to Benefit Wheeler Clinic
The Dorothy Dewey Picard Scholarship Fund
The Family Center, Inc. Fund
The Plymouth Library Association Fund
The United Way of West Central CT., Inc. Fund
The Werner Family Fund