OUR NEWS
Bristol's Memorial Military Museum Awarded $2,500 Grant to Restore WWII Jackets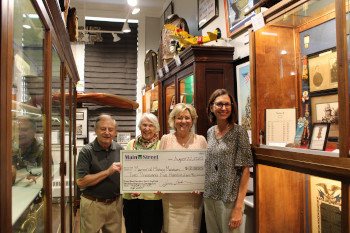 Main Street Community Foundation has awarded a $2,500 grant to the Memorial Military Museum. The Memorial Military Museum promotes historical knowledge through their collection and raises awareness of Bristol's military history. This grant will support the restoration of two WWII leather flight jackets that belonged to Bristol residents.
The Memorial Military Museum is a place for the community to learn about and remember these important aspects of Bristol's history. The flight jackets belonged to residents Warren Beach and Raymond Rich, and the preservation of these jackets will help to ensure their memory and honor their service for years to come. Representatives of MSCF were able to visit the Museum to see the jackets as well as the museum's current collection on display and to celebrate the grant award. This grant was made possible with distributions from the Bristol Brass General Grant Fund and the Karen and Kim Murphy Family Charitable Fund through the Foundation's general grant cycle.
The preservation of history is an important and often overlooked aspect of maintaining and improving our vibrant communities. Main Street Community Foundation is proud to support the preservation of these unique pieces of Bristol's history.