Community Impact
Barnes Memorial Trust: Lifesaving Grant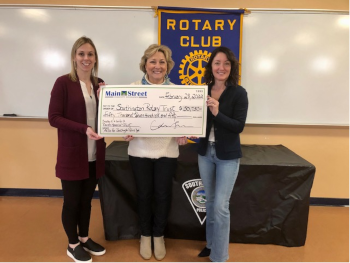 April 2022 - Published in: 2022 Spring Main Points Newsletter - The Southington Police Department responds to over 3,000 medical calls a year, several of which require them to use an automated external defibrillator (AED), a portable device that delivers an electric shock in the event that someone goes into cardiac arrest. However, the AEDs the Police Department currently use have exceeded their useful life expectancy.
In the name of partnership that the community of Southington is known for, the Rotary Club of Southington sought out funding for the replacement of the AEDs. Main Street Community Foundation awarded the Rotary Club of Southington a $50,750 grant from the Bradley Henry Barnes & Leila Upson Barnes Memorial Trust to purchase 25 AEDs.
Every patrol vehicle will now have an AED; in addition, one will be in the police station and two will be used as backups. All police officers in Southington are trained on how to use AEDs to provide lifesaving care; it has been proven that having an AED increases a victim's chance of survival from sudden cardiac arrest.