Community Impact
Grant Funds Mental Health Counseling Through Art Therapy
September 2014 - Mental health issues have been at the forefront of many news stories in recent years, and education and awareness of the issues has increased. But mental health services are sometimes difficult to obtain and the cost of care can be an obstacle. Some people are afraid to admit they need help and fear the perceived stigma associated with a mental illness diagnosis.
Dr. Warren Corson, a cognitive behavioral psychologist, and his wife, Lisa Corson, a clinician trained in both mental health issues and art therapy, are expanding the services they offer through a non-profit organization, Community Counseling Center of Central Connecticut, Inc. (CCC). Originally based in Bristol, CT, CCC has opened a second location in Wolcott, CT.
Pillwillop Therapeutic Farm is located on fifty picturesque acres in Wolcott. The philosophy of programming at the farm is a holistic approach to achieving and maintaining mental health. The Corsons have observed that nature supports healing of all kinds. While their basis is traditional therapy, many of the counseling approaches at Pillwillop Therapeutic Farm are client-centered alternatives to face-to-face "talk" therapy. The Corsons offer art therapy, community gardening, hiking, passive recreation, and other programs to support mental health and wellness.
Through grants totaling $5,165 over the past two years from the Bristol Brass General Grant Fund, the Jim & Eleanor Frawley Community Fund and the Turkus Family Fund at the Foundation, CCC offers a free drop-in art therapy program, "Nurturing the Artist Within", at Pillwillop Therapeutic Farm. The program is open to people of all ages, and draws participants from many local communities. Since there are no program fees, anyone can participate regardless of income. Emphasis has been placed on establishing a safe environment for self- expression and the enjoyment of creating art, and not on critique or technical ability.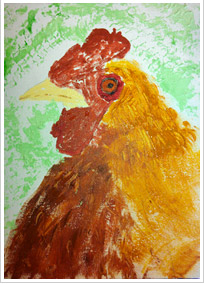 Engagement in the process of making art has been shown to reduce symptoms of anxiety and depression; while increasing self-esteem, self-awareness, and overall well-being. Personal growth and healing can be achieved by developing creative thinking and problem solving strategies, which transfer from the art studio experiences to clients' everyday life experiences and challenges.
Clients come to the farm seeking help for a range of mental health issues - including, but not limited to: low self-esteem, anxiety, depression, loss, grief, recovery from domestic violence, chronic illness/pain management, social isolation, and relationship problems. "I felt warm, welcomed, at ease, happy when I might have given in to depression," shared one female client. "The sessions helped calm my mind, and in turn seemed to reduce some physical pain," reported a male client.
Lisa Corson explained, "We are a working community in which all members contribute in their own unique ways to the best of their abilities. By taking an active role in the work and the life of a community, people can gain or recapture a sense of self esteem, self identity, and a sense of purpose that can often become lost in today's face paced, electronic age. By connecting with each other in a natural setting, each member learns more about themselves and the ways they interconnect with the world."