OUR NEWS
$12,000 in Grants Awarded to Plainville Community from Main Street Community Foundation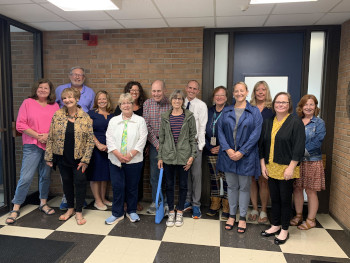 From Veterans Day concerts to green houses for elementary schools, Main Street Community Foundation is committed to improving the quality of life in Plainville. MSCF is proud to have recently awarded seven grants through the Plainville Community Fund, totaling $12,000, which will benefit Plainville residents in several areas of need.
Both the New Britain Museum of American Art and Imagine Nation, a Museum Early Learning Center have been awarded $1,500 for their child outreach programs. A $2,300 grant has been awarded to support PARC, Inc to fund their Adult Life Skills program, which focuses on developing skills for independent living for people with developmental disabilities. The Pequabuck River Watershed Association has been awarded $1,700 for their Civil Engineering Tour for Plainville High School students enrolled in the UConn Environmental Science Early College Experience. Growing season will be extended and more learning opportunities will be available at Louis Toffolon Elementary School where a $1,500 grant will be used to build a cold frame/greenhouse. A $1,500 grant will also be used by the Plainville Wind Ensemble to put on a free Veterans Day concert, and lastly a $2,000 grant has been awarded to the Prudence Crandall Center in order to continue providing domestic violence intervention and prevention services for Plainville residents.
The Plainville Community Fund was established at Main Street Community Foundation in 2006 by a group of committed community leaders in Plainville who were interested in creating a permanent resource for charitable programs and projects that would enhance the quality of life for Plainville residents. Over the past 16 years, the Foundation has awarded grants from the Fund totaling over $108,000.
The Fund relies on the donations of individuals, families and businesses and help meet the changing and emerging needs of Plainville residents. Contributions can be made at any time to the Plainville Community Fund by donating online at www.mainstreetfoundation.org/funds or by sending donations to Main Street Community Foundation, P.O. Box 2702, Bristol, CT 06010.