Men & Boys' Fund Event | June 19 | FAMILY, FUN & FATHERS
Fund Type:
Designated and Project Fund
Join the Men & Boys' Fund of Main Street Community Foundation for Family, Fun & Fathers on June 19th from 4-7pm at Lessard Lanes in Plainville. Tickets are $20 per adult and $15 per child under the age of 16; they must be purchased in advance. This event is limited to 100 attendees in order to comply with the health and safety recommendations of the State of Connecticut and Lessard Lanes.*
Proceeds from this event will benefit the Men & Boys' Fund, which works to make it possible for men and boys to improve the quality of their lives, increase self-sufficiency and make a positive difference in their community. The Fund serves Bristol, Burlington, Plainville, Plymouth, Southington and Wolcott. For more information on the Men & Boys' Fund, click here.
NOTE: On the checkout page in the comment box, you must enter how many tickets you are purchasing at each price point and what the names of your guests are. This is critical to ensure the registration list the afternoon of the event is accurate.
Tickets can also be purchased by mailing a check to Main Street Community Foundation.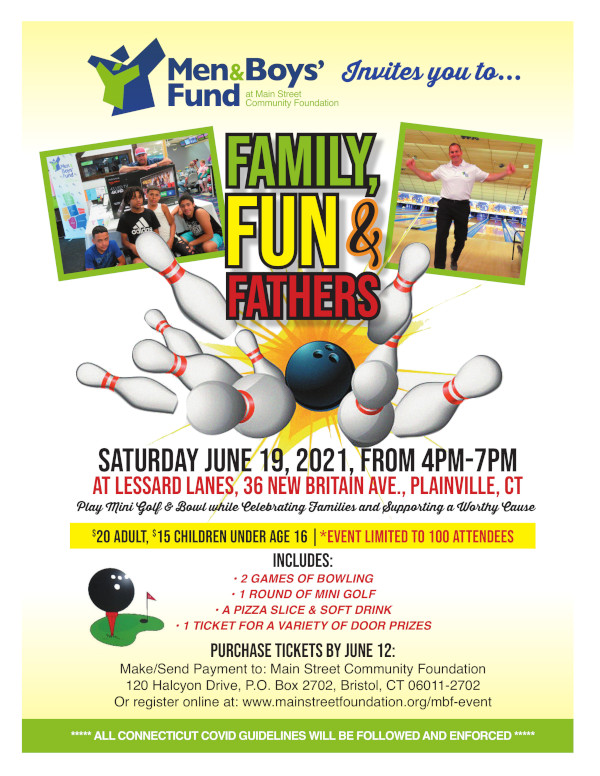 *COVID-19 Requirements and Protocols of Lessard Lanes
All State of Connecticut COVID-19 related requirements and protocols will be in place, including:
Stay home if you are feeling unwell or are exhibiting any symptoms.
Face masks must be worn at all times with the exception of when the individual is in the act of eating or drinking.
Social distancing of at least 6 feet should be maintained throughout the event and there must be no gathering in large groups.
Each bowling lane is a group that will stay together for the event. For bowling, it is asked that each group stay together at one lane. There is room for people to bowl while others are seated or standing behind the lanes. There are also barriers every 4 lanes to keep groups separated.
For mini golf, each bowling lane will be brought over individually. Two holes will be kept between each group to ensure proper distancing.
Lessard Lanes staff will monitor the number of people in each area.
Questions can be directed to Samantha Rajotte, Scholarship & Program Officer at MSCF, by calling 860.583.6363 or emailing samantha@mainstreetfoundation.org.